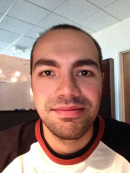 This is the home page for Tony Cesaro, computing professional. Please feel free to use the content on this site for your education and reference in projects of your own. Thanks for visiting.
My personal interests include technology, mountain biking, music, photography, and SCUBA diving. I am a graduate of the University of Central Florida in Orlando, FL, USA holding a master's degree in Management Information Systems and a bachelor's degree in Information Technology.
My technical interests include computer networks, network management systems, computer security, systems administration, UNIX-like operating systems, database administration and web development. I currently working as a systems engineer/architect supporting large scale online gaming systems. My areas of systems-related technical expertise include web/HTTP, infrastructure services, automation (Jenkins, Ansible), databases (Oracle, MySQL, PostgreSQL), monitoring systems and Kubernetes (CKA 2019).
My more recent interests involve building out next generation monitoring and system analysis tools with Splunk, Prometheus and Grafana and migrating "legacy" procedural deployment automations to declarative Kubernetes-managed services. I also enjoy programming in Python, Go, Java and C.
Email: acesaro at google's mail service